John Speweik, CSI
John Speweik, CSI is a historic masonry specialist for Speweik Preservation Consultants, Inc., an independent consulting and testing agency specializing in matching historic stone, brick and lime mortar based in Elgin, Illinois.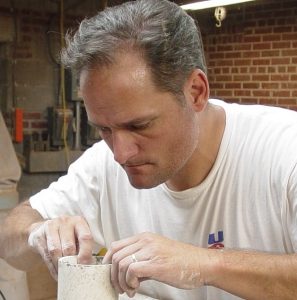 He is a fifth generation mason, from a family of masons, ca. 1870 Posen, Prussia. John has developed a vibrant passion for replicating historic masonry materials in both design and application using the building itself as his model. His reputation as an innovator and pioneer in lime mortars has prompted revolutionary changes to the masonry restoration industry in the past 30 years. John believes strongly that buildings have a voice and communicate clearly through visible patterns. He identifies these patterns and then interprets and translates the findings into workable treatment options for his clients.
His dream of one day traveling to England to meet other heritage stonemasons became a reality in 1997. John has made regular trips back to England since and has developed many friendships while completing academic courses and workshops on traditional masonry conservation. He has had the privilege of working on several castles with fellow Scottish stonemasons to gain personal insight into the challenges of lime work on vintage masonry walls and bring that knowledge back to American stone masons.
The goal of John's work is to develop historic rehabilitation treatment recommendations and certified project specifications sensitive to the historic integrity of each specific building – supported by the actual installation of those recommendations into the facade masonry while establishing the workmanship quality standard for installation.
John Speweik has created a unique test panel certificate training program in support of this goal. The training incorporates "on-the-wall" skill demonstrations to evaluation worker proficiency to execute the specified project treatments. John has written many articles and publications on historic masonry and is a recognized authority on lime for use in masonry restoration and plaster applications. He is an active member of ASTM C12 and was instrumental in the development of ASTM C1713 Standard Specification for Mortars for the Repair of Historic Masonry recently approved and published in February 2010.
The guiding principle of respect and honor in a true master craftsman are found not in his words, but on the wall, through the work of his hand.

John. Speweik
Nathan Speweik
Nathan Speweik began working with SPC in 2011. Nathan is a leading U.S. expert in historic masonry preservation with 10 years of experience in this field. He is a sixth-generation masonry expert from a family of masons dating back to 1870 in Posen, Prussia.
As a historic masonry specialist, Nathan understands the masonry building materials from a true hands-on perspective and can consult with owners, architects, and engineers on the merits of various products in combination with the means and methods to deliver a successful project. In addition, Nathan understands the challenges of meeting Owner project expectations. He knows the limitations of replicating historic materials, and being realistic about what can, and cannot be accomplished, in the preservation of historic masonry architecture with the current masonry workforce available.
Nathan Speweik assists in teaching a unique Historic Masonry Certificate Training Program that can be specified in Division 4 under the framework of ASTM E2659-18 "Standard Practice for Certificate Programs" The training incorporates "on-the-wall" skill demonstrations to evaluate worker proficiency in the execution of the specified project treatments. The training program has been widely successful because it features masons teaching masons the means and methods of historic masonry architecture and their individual responsibility and role, they play in preserving it through the tools of the trade. The training provides Architects, Engineers and Historic Building Owners the confidence to deliver the highest quality workmanship in a tough low-bid environment while reducing their risk of unnecessary change orders.
His project experience includes numerous state capitol buildings and significant campus structures at universities around the country. Nathan's other recent projects include the Arlington National Cemetery – Sheridan / Ord-Weitzel Gate Project, Arlington, VA; North Hall – University of Wisconsin, Madison WI; Bowman Hall, UW Stout, Menominee, WI; Yerkes Observatory, Williams Bay, WI; Ducktown Basin Museum, Ducktown, TN and the Washington State Capitol Campus in Olympia, WA.