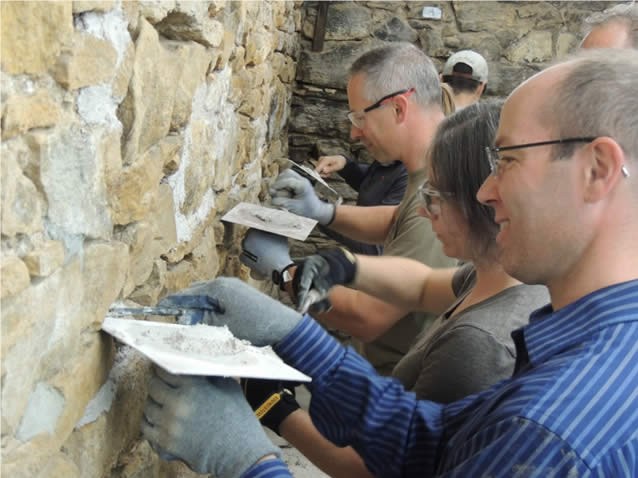 Historic Masonry Preservation
Presented By The Belvedere School
September 15 & 16, 2018
Historic Masonry Preservation is a fun and intense, two-day, hands-on learning experience. The stone, brick and mortar being preserved will be done in accordance with The Secretary of the Interiors Standards for Rehabilitation. You will be part of a team of students performing the foundation preservation on the circa-1859 Lamb-Munger Mansion in the Central Park National Historic District in Hannibal, Missouri.
This is a tuition-based class with a limit of 12 students. You will be working side-by-side for two days with instructor John Speweik. We are honored to have John back for his second workshop here at the school. John is a 5th generation mason and is internationally recognized as one of the top experts in hand-on historic masonry preservation training. He is an author and conference speaker on historic stone, brick and lime mortar preservation techniques.
This will be an intense, learn-by-doing opportunity. You will learn: stone repair; brick repair; mortar repair; removal of deterred mortar; mixing lime mortar; matching historic mortar; preparing mortar joints; mortar joint profiling; proper tool selection for repointing; repointing do's and don'ts. At the end of the two days you will know from beginning to end how to remove, match and repoint mortar joints in historic stone and brickwork. At the completion of the class each student will receive a "Certificate of Completion."
Homeowners, small contractors, preservation staff, preservation commission members, hp students and historic building owners will all benefit from this hands-on, traditional training event. All skill levels are encouraged to enroll. This is a hands-on workshop so you will be getting dirty. Bring work gloves, tool belt and eye protection.
Tuition for this two-day workshop is $695 and includes fresh ground morning coffee, snacks, beverages and lunch. Space is limited to 12 students in each session and pre-registration is required to retain a spot in the class.
Affordable hotels as well as bed & breakfast inns are available for out of town students.Our inn, The Belvedere Inn may have rooms for early registrations at a student discount. For more information or to pre-register call Bob Yapp, 217-474-6052 or yapperman@msn.com
The Belvedere School for Hands-On Preservation
521 Bird Street, Hannibal, Missouri 63401
September 15 & 16, 2018